You might want to publicise your use of SAM Learning to large numbers of your pupils or their parents.
There are several ways you can do this:
via your school newsletter (e.g. based on the example email below)
sending one of our "Learner Letters" by paper or email.
sending a bulk email.
sending a bulk SMS text.
showing learners the "Assembly Video" from YouTube.
give out the Learner Flyer at Parents Evenings.
Below are sample texts you could use for emails or SMS:
Email:
Dear Parents / Guardians of Pupils at SCHOOL
We wanted you to know that your son/daughter has 24/7 access to SAM Learning - an online revision resource.
SAM Learning contains thousands of revision activities, across many GCSE subjects - and is particularly good for quick review checks on learning.
To login, your child needs:
The website address:

www.samlearning.com

Our school centre ID: ***INSERT ID HERE***

Their username: their date of birth followed by initials, in the format DDMMYYII

Their password: if they have not yet logged in, this is the same as their username. If they have forgotten it, they can request it to be reset through the school, or SAM Learning's support desk.
Please encourage your daughter/son to log in and do some revision activities - they typically take around 15 minutes each, so are ideal to be done in small time gaps - research has shown that this really can help with GCSE results.
Good luck!


SMS Text (<160 characters):

Your children can revise at www.samlearning.com. Centre ID = ***INSERT ID HERE***. Login = DoB and Initials. Thousands of activities across all subjects!
When you launch to a class of learners, you can use this slide: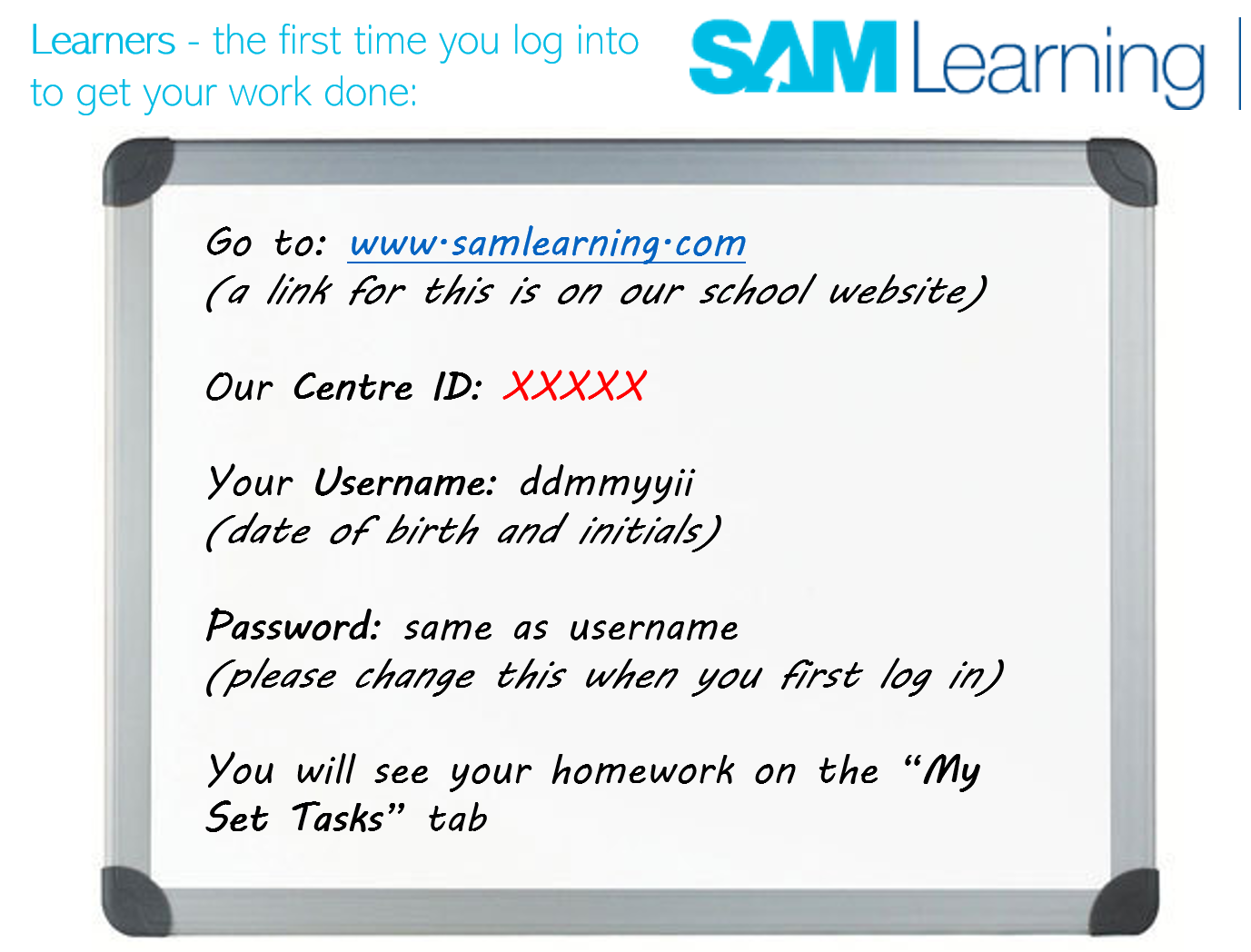 Or give out this flyer at parents evenings: