Whether reporting to the DfE or your Governors, you will sometimes want to find out how much remote learning time your learners have been spending on SAM Learning.
Here is some brief guidance and some suggestions:
1. The Usage Report (Reports Tab - Usage - By Year Group)
First, set the date range:
The graph at the top shows you usage over that period - it's useful to see which Year Groups are doing the most work:
The table at the bottom provides you with summary information:
(Column 1 shows you how many Task Hours a Year Group have completed in the time - and Column 4 shows how many Learners in that Year Group have been active.)
You can print or export this report.
If you want to go into more detail for Groups of Leaners:
2. The Progress Report (Reports Tab - Progress)
Set the filters on the left to the date range and learner group you want to report on: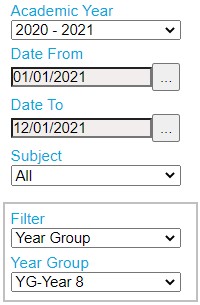 The information bar at the top tells you what you need to know:
3. Filter Down - e.g. to Learner Characteristics such as CLA or EAL (if you sync these with us)
4. Create Your Own Groups for Monitoring (Groups Tab - Wave 2)
Do you want to focus on Children of Key Workers...or those who have had to self-isolate?
Go to the Groups Tab, select Wave 2 and create a new group.
Then you can use the filters on the Progress Report to monitor this specific groups of learners.