If your school uses Google Classrooms, this is how you can link your SAM Learning Task in.
(If you're not sure how to create a class on Google Classrooms, click here.)

1. Firstly, save this text on your desktop (insert your school's Centre ID, in place of the XXXXX) ready to copy (ctrl-c) when you log a homework online:
2. Secondly - set your SAM Learning Task as usual, from the Set Tasks Tab.
3. Finally, log into your Google Classrooms account and add the above text as materials on your Classwork page (or you can just email it to your learners).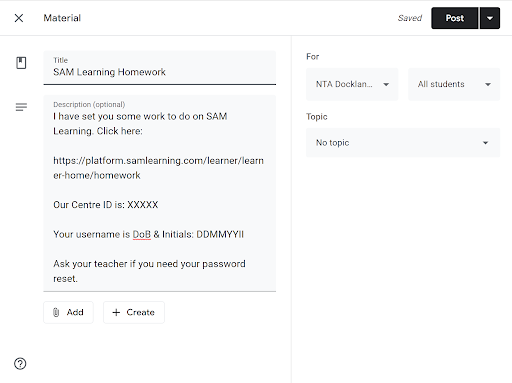 It's as easy as that - now you can get on with your other work until SAM Learning does your marking for you and emails you the results!
Alternatively...
If you want to link to a specific activity, without setting it as a task, each activity has its own URL - the link icon found in the top right when viewing an activity:
N.B. This is the same link you can get from out topic lists, found using the link on the home page.
You can copy this link and paste it into a Google Classrooms message - but you won't get a task report back for this. You might want to use it when suggesting a bundle of activities learners could do when revising.