The information screen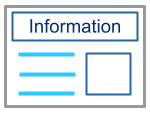 This is a simple screen type that allows you to present a block of text to the learner... as well as:
Image
Video Clip
Hyperlink
Audio Clip
You can use information pages to introduce an activity or provide information part-way through.
Click to add the text. Note that you can paste text from other documents; however, unsupported formatting, including hyperlinks, will not be preserved.