SAM Success Cycle
We work with schools to provide packages suitable for individual school needs. We follow a process called the SAM Success Cycle, which is a multiple-year partnership to support long-term school improvement.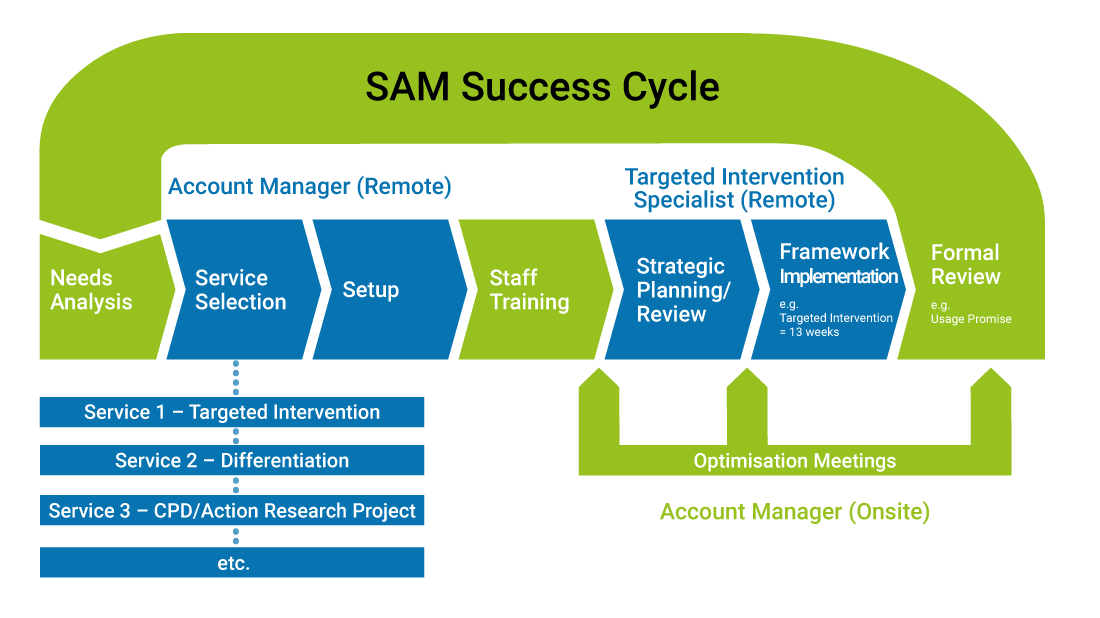 Proven Packages for School Leaders
We provide a series of proven packages for school leaders – effectively – 'leadership in a box' frameworks that:
Augment leadership capacity
Improve and standardise staff performance
Deliver proven results
Dedicated Account Managers
Your account manager is here to provide you with the highest level of service and support.  As former teachers and school administrators, we have many years of experience at the 'chalkface' and are here to offer you the benefit of our educational understanding.
We offer every school three optimisation meetings per year, where we will meet with the school's SAM Learning coordinator and develop strategies to ensure that together we are meeting the needs of your learners and providing your school with the desired outcomes.  These optimisation meetings are designed to evaluate the needs of individual schools and, through regular discussions, analyse the usage and results of key groups. This analysis of need ensures that your school is always getting the best from SAM Learning.
We offer support in a wide variety of ways to suit your time constraints:
On-demand CPD for the whole staff or small groups

On-site training for the whole staff or small groups

Video conferencing support via Join.me suitable for small groups or one-to-one situations

Live telephone support for specific queries
Our friendly and helpful customer support team makes certain that all your questions can be answered and both you and your students can enjoy smooth access to SAM Learning.
To contact our Customer Support Team:
Email: support@samlearning.com